Production planning techniques taught us to reap the benefits and outweigh the downsides, depending on whether the launch of production orders occurs on "push" mode, that is, based on forecasts to have the product available after a certain delivery period, or on pull mode, thus activating an upstream recall system of components and semi-finished products needed for production.
In the world of transportation, the first system applied was the push one: once the delivery lead time is defined with the carrier, the picking of the goods to be transported is made at the last possible moment. This is due to many reasons, but mostly:
to benefit from the possibility of collecting orders until the last moment, placing them for immediate shipment;
to avoid allocating inventory on future deliveries, thus not having the possibility of filling orders that arrive later (but still in time for previous deliveries), when inventory is insufficient but there is time to produce what is needed to complete the orders with subsequent shipment dates.
The companies, based on the push system, have thought of the carrier as a production department with a defined and respected lead time to impel deliveries, trusting that they will be processed in the agreed ways and times.
Logistics carriers have equipped themselves to meet this demand by specializing and standardizing the service not only by product type (drugs, food, liquids, etc) but also by lead time and weight ranges, resulting in an increase in efficiency.
Nowadays, when we talk about transportation companies, we often refer to complete shipment carriers, groupage shipment carriers, couriers, express carriers and specialists in parcels' deliveries.
The shipping companies have reproduced this subdivision internally, both in warehouse set-ups management (picking) and in orders' allocation on a panel of specialized carriers: a subdivision by categories to be managed with IT tools or to simplify manual management.
An example of categorization could be as follows: orders under 100 kg are entrusted to couriers, those up to 3,000 kg to groupage shipment carriers, higher weights to complete shipment carriers.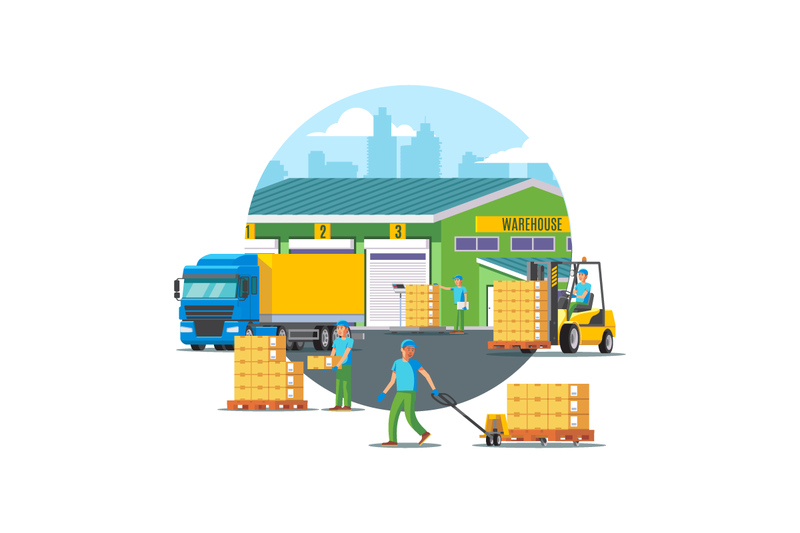 Other options would be to allocate orders with 48/72-hour delivery to standard carriers, 24 hour delivery to express carriers, less than 24 hour delivery to dedicated carriers such as taxi services and so on.
These stratifications of shipments and deliveries have indisputable practical value, but they are not always a symptom of efficiency; it depends on the case.
However, if we think of it from the pull system point of view, then the focal point is the customer who, with the order issued to the shipping company, defines the deadline or the mandatory delivery date. Then, will be the carrier that, based on this date, will arrange the transportation to arrive in time for delivery. And in doing so, it will be able, for efficiency reasons, to warp the standard categories.
Cross docking is an example of this. The carrier collects the goods destined for a specific customer on (or by) a specific date from several responsible parties and organizes the delivery with all shipments, regardless of their lead times and weight classes defined in the standard categorization.
Thus, a 5kg package, that would have been delivered by courier with a 48-hour delivery time (according to the standard push configuration), is loaded with a batch or with a full load in 24 hours without going through multiple warehouses, costing less and reducing the risk of damages.
In this model, it is the carrier that produces the picking lists for the warehouse that prepares them.
Hence, we moved from a model in which the order is placed into the system according to certain standards and categories (push), to one in which the shipment is dragged from the customer's delivery date and from the carrier's opportunities of generating synergies with other goods from other parties (pull).
Some carriers (usually small transportation companies) have joined specialized networks (eg express pallet management, groupage management, express parcels management, etc) endowing themselves with extensive distribution networks (national or international). Regarding all shipments in their portfolio, they select those that make it possible to configure direct deliveries with specific means and entrust the rest to the networks, thus operating in a pull perspective.
However, the reasoning is not completed if companies do not organize themselves in this way, giving to the carrier visibility of orders that can be processed and making them responsible for activating the warehouse configurations.
Nowadays, there are not many companies organized in this way, but there is no lack of examples. This organization model foresees an advanced transportation outsourcing, with the ability to control the carrier's performance (and not only the costs) but above all, with the desire to partner with him to create efficiency and avoid waste.
The result of this optimization can translate into savings for the shipping companies and adequate and profitable rates for the carriers.


All rights reserved©